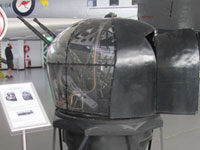 The
Frazer Nash FN5 Gun Turret
was used as the nose turret of the Manchester, Stirling and Lancaster bombers. The FN5 carried two 0.303in Browning Mk II machine guns, with 1000 rounds per gun. There was not enough space in the turret for the gunner to wear his parachute and operate the turret properly, so the gunner's parachute was attached to the inside of the fuselage adjacent to the turret.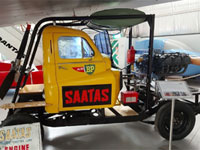 The
SAATAS Engine Test Rig
was used to test aircraft engines after servicing or rebuilding. It consists of a Austin A70 Hampshire Chassis with the body reversed. The chassis was fitted with an engine mounting frame, and fuel tank. The cabin has aircraft instruments on the dash. The serviced or rebuilt aircraft engine was fitted to the rig and it was wheeled outside for a test run. It was used mainly with Continental, Lycoming and Gypsy Queen 70 engines. SAAM has fitted it with a running Lycoming engine.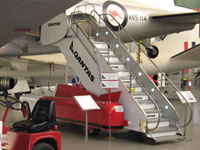 SAAM's
Hastings Deering Air Stairs
were acquired from Uluru (Ayres Rock) and restored in our workshops. They feature a 6-cylinderFord Falcon motor. They were designed by Qantas Technical Services Division in 1958 and built under contract by Hastings Deering Services. Qantas ordered 14 for their use but other airlines also ordered stairs of this type from Hastings Deering. They are sometimes referred to as 'batwing' stairs.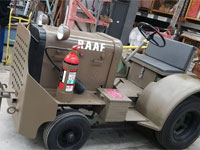 One of our latest restorations is the
Clarktor Tractor
. It has been restored to working condition and should prove very handy in the future.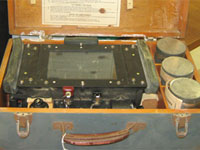 An
Astrograph
was used by a navigator as an aid to determine the position and course of the aircraft during nighttime flying using celestial navigation. The projector was installed above a map table at the navigators station and projected a star map (film) for a given latitude across longitude. The lamp projected the star chart image onto the map table below, which would have the ground map of the terrain below. For more on a astrograph,
click here
.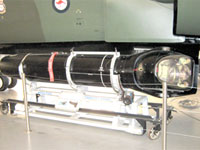 The
Pave Tack Pod
uses a laser and a forward looking infrared to find and designate targets for laser-guided bombs and other precision-guided munitions. The RAAF purchased ten Pave Tack pods in 1980 for its F-111 fleet (although all 24 F-111Cs were wired for the pod). Following the retirement of the USAF's F-111F aircraft in 1996 the RAAF purchased surplus pods to equip each of its F-111Cs to carry its own. SAAM has two of these pods.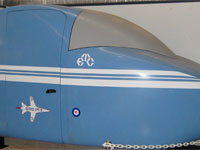 AVMED Flight Simulator
The RAAF Institute of Aviation Medicine (AVMED) Group ensures the effectiveness and safety of Australian Defence Forces (ADF) air operations by conducting research and training ADF aircrew to understand and manage the physiological challenges of flight.