The decision to form a South Australian Section of the Australian Aero Club was made on 23 August 1926, at a meeting of 5 interested Adelaide airmen with Captain E.C. Johnston, Superintendent of Aerodromes with the Civil Aviation Branch, on 23 Aug 1926. Incorporation of the Association, and hence its formal foundation, did not take place for some months. On 12th November 1929, the name was changed to the Aero Club of South Australia. On 4th August 1936, it had another name change and became the 'Royal Aero Club of South Australia'. The Royal Aero Club of S.A. ceased flying operations in December 1981. It continued to operate as an incorporated association for many years afterwards with ambitions to recommence flight training that were never fulfilled. Recently, SAAM received a donation of R.A.C.S.A. documents. We are hopeful they will help us tell the story of the R.A.C.S.A. more fully.
SAAM's Royal Aero Club of S.A. Display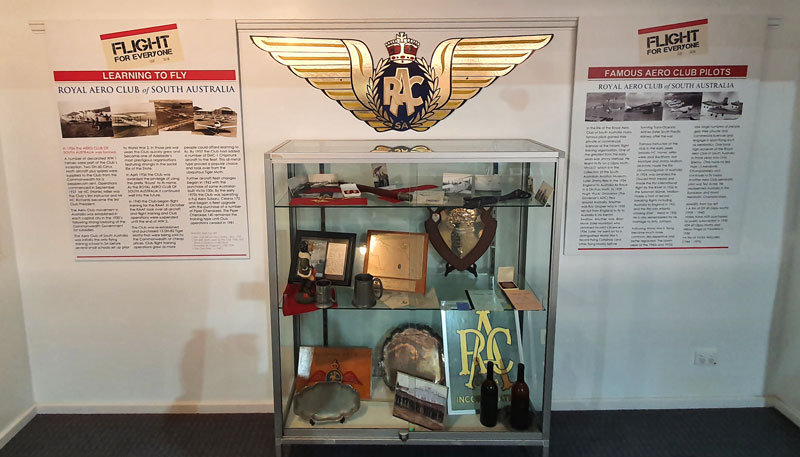 SAAM has a Royal Aero Club display on the mezannine and some of the Royal Aero Club's Archives in the Library.


SAAM recently took possession of Victa Airtourer 100 VH-BTW. This trainer did many years of service with RACSA before being sold to Chris Sperou in 1975 to use as an aerobatic aircraft. The aircraft was withdrawn from use in 1980. It is now in our workshop being restored back into display condition. In due time it will be the centrepiece of a new RACSA display.
Click here
for more on this aircraft.