Royal Aero Club of South Australia Page

The Australian Aero Club was formed in 1914 at Point Cook, Victoria. After World War 1, the club was revived by returning airmen and branches were formed in each state. The Civil Aviation Branch of the Department of Defence was formed on 16 Dec 1920. Civil aviation did not get its own department (the Department of Civil Aviation) and Minister until 24 Nov 1938.


The decision to form a South Australian Section of the Australian Aero Club was made on 23 August 1926, at a meeting of 5 interested Adelaide airmen with Captain E.C. Johnston, Superintendent of Aerodromes with the Civil Aviation Branch, on 23 Aug 1926. Incorporation of the Association, and hence its formal foundation, did not take place for some months. On 12th November 1929, the name was changed to the Aero Club of South Australia. On 4th August 1936, it had another name change and became the 'Royal Aero Club of South Australia'. The Royal Aero Club of S.A. ceased flying operations in December 1981. It continued to operate as an incorporated association for many years afterwards with ambitions to recommence flight training that were never fulfilled. Recently, SAAM received a donation of R.A.C.S.A. documents. We are hopeful they will help us tell the story of the R.A.C.S.A. more fully.
SAAM's Royal Aero Club of S.A. Display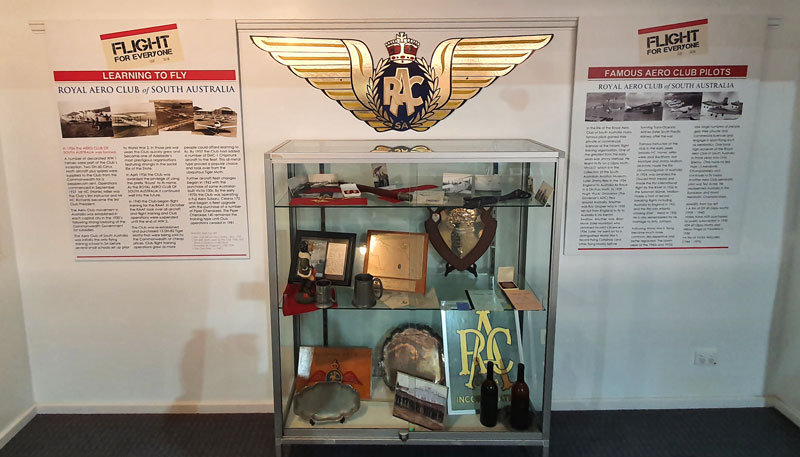 SAAM has a Royal Aero Club display and some of the Royal Aero Club's Archives. The RAC display is on the mezzanine in Hangar 1.
Royal Aero Club History
SAAM History Group member Mike Milln has published Book 2 of his Royal Aero Club of South Australia history. (Book 1, covering the 1926-1941 period, was published in 2011.) Book 2 covers the 40 postwar years until the Club's failure. This is a warts-and-all story that is sad in some parts and funny in others. But it's much more than just an aero club history – it also describes the context within which the club operated – the national aero clubs movement and the changing postwar aviation policy and regulatory environments that spelled its downfall. It is a must read for anybody connected with the club and/or interested in the part the aero club movement played in Australia's aviation development. You can buy the book at the SAAM shop, at Dymocks and
Adelaide Booksellers
in Adelaide's Rundle Mall.

Wing Tips
The Story of the Royal Aero Club of South Australia
Book 1: 1919-1941
Book 2: 1941-1986
Author: Mike Milln