Rockets in the Desert Page

Watch this space
SAAM is redeveloping the Rockets in the desert display with the cooperation of the traditional owners of the Woomera Rocket Range Area. This stunning 6m high Kokatha artwork created by Paulette, Maureen and Shirley Williams for the new Skylark display was hung temporarily on its new wall last week. It has been taken down so the wall can be painted, and will be re-hung soon. Some parts of the Skylark display will be added soon.
Skylark sounding rocket
Rockets on Display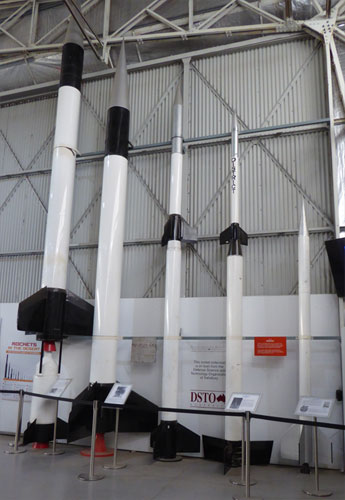 Woomera Test rockets on display:
Skylark Rocket with Lupus 1A Booster
Aero High Altitude Sounding Rocket
High Altitude Density (H.A.D.) Rocket with Gosling Booster Motor

Other related items:
Model of a Saturn V Rocket and launcher tower
Model of Black Knight Experimental Ballistic Missile
Skylark Instrumentation Head
Dorado Rocket Motor
Project Karinga Test Vehicle
Jabiru Hypersonic Research Vehicle
Europa Model






Woomera Rocket Range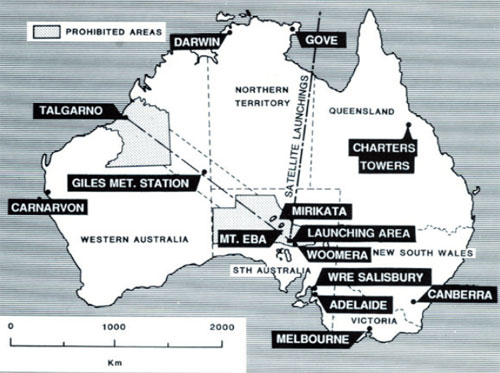 Woomera items on display at SAAM include: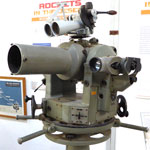 Askania Kinetheodolite
for Photographic
trajectory data.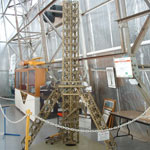 Model
Skylark Rocket
Launch Tower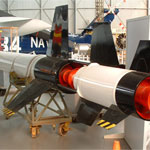 Skylark Rocket
with Lupus 1A Booster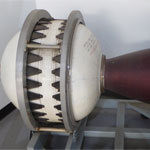 Waxwing Apogee
Solid Fuel
Booster Motor
(used on Black Arrow)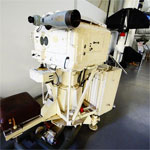 X-Tracker
2 person
Optical Missile
Tracking System