Andy Thomas Collection
Andy studied at Adelaide University and worked at Lockheed in Atlanta, before joining NASA. He completed 4 missions in space and was Deputy Chief of the Astronaut Office in Houston before retiring. Andy holds a number of honours and awards including Officer of the Order of Australia (OA). Our Andy Thomas collection is on display in hangar 1.
Badger Family Collection
The key exhibit of the Badger Family Collection is the Mark Vc Supermarine Spitfire EE853 A58-146 (UP-O). The collection also displays a large number of aviation artifacts and memorabilia.The Badger Family collection is on display in hangar 1.
Commercial Displays
SAAM has several commercial aviation displays, Guinea Airways, Ansett, models of commercial aircraft to name a few. We also have the forward fuselage section of BAe 146 (VH-NJL) formerly operated by Cobham Aviation Services. The BAe is open for visitors to inspect. Also,
click here
for our Commercial Aviation web page, which provides some examples of South Australia's early aviation history.
Communications Equipment
SAAM has a large collection of vintage communications equipment. A small number of items are on view in our themed displays and many more are in storage for preservation and for future displays.
Engines
SAAM has a large collection of aircraft engines, the oldest being our Gnome Monosoupape Rotary c.1914, (pictured), which is still a 'runner'. We also have the first aircraft engine built in Australia, the Witber engine (1915). Both the Gnome and Witber engines are on display in hangar 1. Other engines are either on display or in storage.
Click here
to go to our Engines page (which also has videos of some our engines running).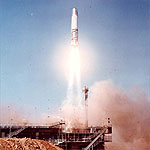 Missiles and Rockets
We have a Blue Steel, Ikara, Matra R-530 and Seawolf on display. We also have a number of Woomera Test Rockets in our 'Rockets in the Desert' display as well as Woomera Range tracking instruments.
Click here
to go to our Rockets in the Desert page.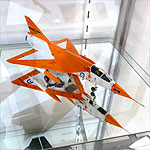 Models
SAAM has more than 120 models on display, most of which are technically correct in livery and squadron markings. Our goal is to build up a collection of high quality models of all types flown by the RAAF (in 1:48 scale).
Click here
to go to our models page.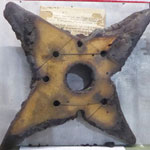 Propellors
SAAM has one of the largest collections of wooden propellors in Australia. Most are on display in Hangar 1. The propellor pictured here is from the Smith Bros. Vickers Vimy (after the fire). We also have a zeppelin airship propellor.
Click here
to go to our Propellors page.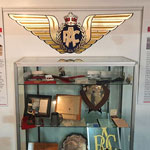 Royal Aero Club of S.A.
SAAM has a small collection of Royal Aero Club of S.A. memorabilia on display in Hangar 1. We have also just taken delivery of a ex. RACSA Victa Airtourer which is undergoing restoration. Eventually, this aircraft will form the centrepiece of a new RACSA display.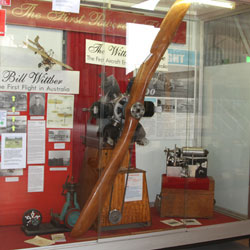 Wittber Engine
This is the first aircraft engine built in Australia. It was built by Carl (Bill) Wittber in 1915. It is a 6 cylinder engine based on the 3 cylinder Azani design. After the engine was completed, the government banned any further civilian attempts at flying. This so disheartened Wittber that he burnt the timber frame and covering of his aircraft and sold the engine. In his retirement, however, he did seek out the remaining parts of his engine, and reconstructed it. You can see this engine at in Hangar 1 at SAAM.
Other Displays
Models
WW1
WW2 Europe
WW2 in the Pacific
Smith Bros. 1919 Flight
Australian Women Pilot's Association
HMAS Melbourne Model